Episode Information
Season
2
Episode Number
7
Title
Parturition
Abhijeet's Rating

(out of 5)

* *
This is the kind of garbage filler episode that I dislike about any Star Trek series. Also one of my least favourite plot developments in the series - the love triangle between Neelix, Kes and Tom Paris. In a nutshell - Neelix and Tom have a fight, which is at least funny, and are then sent on a away mission together. They bond and become friends on the mission, defusing the tension. The story is cliched rubbish and this episode isn't deserving of Star Trek.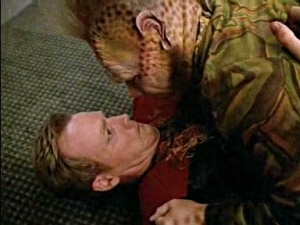 Ad blocker interference detected!
Wikia is a free-to-use site that makes money from advertising. We have a modified experience for viewers using ad blockers

Wikia is not accessible if you've made further modifications. Remove the custom ad blocker rule(s) and the page will load as expected.